HIP's Explained!
A HIP is simply a set of documents that provides the buyer with key information on the property and must be provided by the seller or the seller's agent. A HIP is made up of compulsory items and optional items, and shouldn't contain any marketing material.
Home Information Packs (commonly known as HIPS) were brought into effect in August 2007 and since this date have continually been updated and refined, under the terms of the Housing Act 2004. It is now compulsory for all for all homes on the market within England and Wales to have an up to date HIP.
In April 2009 it became a legal requirement for the following minimum documents to be available before a property can be placed onto the market for sale:
A property Information Questionnaire
An Energy Performance Certificate
An index of the documents contained in the HIP
A sale statement
It is now a legal requirement to have a HIP and you are unable to market your property without one. The HIP lets buyers see important information on the property at the start of the process and this information is provided by the seller of the property. One of the key objectives of HIPS is to provide buyers with as much information in advance of viewing a property and therefore reducing the risk of buyers becoming aware of any surprises during the process that can cause delays, and possibly even cause the sale to collapse.
What the HIP needs to contain:
Freehold properties
Home Information Pack Index
Energy Performance Certificate (EPC) – See Below
sustainability information (required for newly built homes only)
sale statement
evidence of title
standard searches (local authority and drainage and water)
Leasehold properties
all the compulsory documents above
a copy of the lease
The following documents are Optional:
If these documents are included they could help to speed up the sale and ensure that the process goes more smoothly. These include:
Home Condition Report
legal summary
home use/contents form
other documents such as specialised search reports.
The Energy Performance Certificate (EPC):
An integral part of the HIP is the EPC which gives home owners, tenants and buyers information on the energy efficiency of their property. It gives the building a standard energy and carbon emission efficiency grade from 'A' to 'G', where 'A' is the most efficient don't panic if your home isn't rated A,B or C as the average house in the U.K. is rated D!
This is how the information is displayed on agent's details, and this graph forms just one part of the EPC.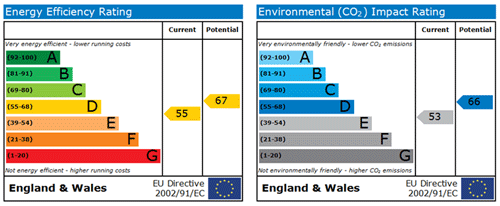 Other uses for EPC's:
EPCs are measured using the same calculations for all homes, so you can compare the energy efficiency of different properties. Part of the EPC is a report which will list the potential rating that your home could achieve, if you made the recommended changes.
The report lists:
suggested improvements (such as fitting loft insulation)
the approximate cost
possible cost savings per year if the improvements are made
how this would change the energy and carbon emission rating of the property
You can use this information to:
cut your fuel bills
improve energy performance in your home

help cut carbon emissions
help you choose a more energy efficient home to rent or buy